Having emails that stand out is a great way to get your emails noticed. With HTML emails the sky isn't the limit, it's usually your ability that's the limit. But far too often marketers go with the basic template because they don't know how to code a good one.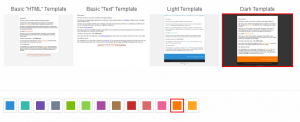 Well we've made emails looking good easy too. You can now pick from 4 templates and our two newest templates have 13 colors, including two shades of orange.
Next will be to add more templates to the collection and a way for you to be able to add in your own templates. We want it to be super simple for users who don't know how to create great looking templates, but the power for the super users who just want us to deliver their awesome looking emails.
You can find the templates selection on the list settings page. That way you set it once, and whether it's a blog broadcast or a followup or a normal broadcast, they all look great!