Well this is something I've been wanting for a while. I love seeing the number of subscribers to my blog right smack on every page. It motivates me to keep that number growing and it gets visitors interested in subscribing.
Let's face it, people don't want to miss out so if they see lots of people have subscribed they want to subscribe too. It's almost like an authority ranking of sorts. It proves you're someone worth subscribing to!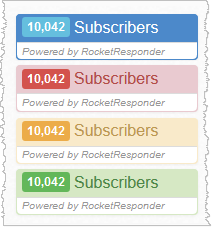 We've got widgets in a variety of styles that will stand out. And what's even more cool about them, if someone clicks the subscriber count they'll get to a subscribe page for your list, and if they click the Powered by link they'll be clicking your referral link ;-)
So it's just another way to get more people subscribing and more people in your downline at RocketResponder!