I've been working on a few things behind the scenes at Rocket Responder. Features that will be available to the masses in the future, but need some thorough testing first. One of them are email templates: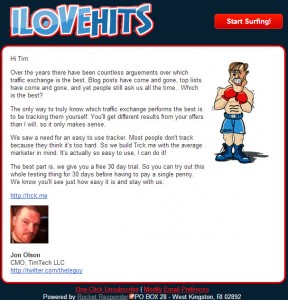 If you are on the ILoveHits list, you'll see the new template live in your inbox. If you aren't on that list yet, the next time you log into the members area you should get added automatically.
Email templates are an easy way to stand out from the crowd. It's also a great way to familiarize people with your content. If they recognize your template, they'll know it wasn't spam.
If you are interested in trying a template with your list, let me know. Just note you'll have to make the design and be able to code the html for it.