Well the new design is here, and it looks..  HOT! Yesterday I was talking to Jon and Justin saying I can't believe we made Sitizens. It just looks so.. awesome!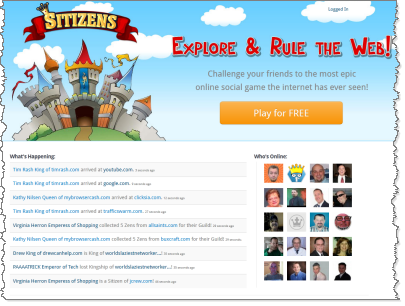 The concept is simple: Click the toolbar button whenever you arrive at your favorite websites. We'll keep track of how many times you've been there, how many times your friends have been there, and the whole world! The person who goes there the most often is King! As you can imagine, it gets real fun when you play with friends who have similar tastes as you.. Or at least know you well!
Registration is now OPEN so feel free to join! But be sure to tell your friends, if you use your special link on the Expand page you'll be able to be King of more domains for every person who starts playing because of you!