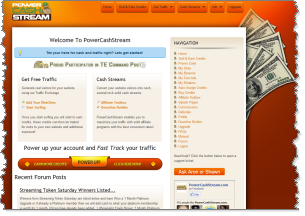 Wow. That sums it up with PowerCashStream. These guys have a very attractive site. Most people will buy a script throw it up and say done! But it's clear these guys have taken a ton of time to make it look really great.
On top of that Aron and Shawn are doing all the things good owners do: They are active in chat rooms, conference rooms, and make it easy to get in touch with them.
They also give out badges, have cool prizes while surfing, and some really crazy upgrades available.
Right now it's ranked #91 on Traffic Exchange List with 79% thumbs up! It's an exchange worth supporting.. Go check it out!